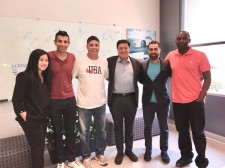 HOUSTON, August 7, 2018 (Newswire.com) - ZT Corporate and Taseer Badar are partnering with Hondo Medellin to expand the Hustle Baseball brand. Through this partnership, they hope to bring resources and opportunities for youth baseball players in Texas to the next level in the coming years.
Established in 2017, Hustle baseball is powered by ZT Corporate and Altus Health. The Hustle team is comprised of kids ages 7-18 from communities all over Houston. Chairman and CEO of ZT Corporate and ZT Sports, Taseer Badar, has always been passionate about baseball and embraced the opportunity to make the dreams of young athletes come true. "We couldn't be more proud of the ZT Hustle family joining hands together," stated Taseer. "Together with Hondo Medellin, we hope to take Texas into a brand new era in youth baseball! With this partnership, we will be known ZT Hustle baseball."
Hondo Medellin is a nationally recognized baseball coach and private instructor specializing in selecting and working with talented baseball players at the high school and youth level. A current trainer of some of the best talent in Texas, Medellin is not only a coach but a mentor to many of today's youth ball players. "It is an honor to be part of these players lives and be able to watch them chase their dreams," Medellin explained. "My vision for the game aligns with Taseer's, making this partnership exciting for the youth of baseball in Texas." In addition, Astros first base coach Alex Cintron has also partnered up with Hustle to represent the brand throughout the 2018 season.
Hustle is a 501-c nonprofit organization working to shape young athletes into professionals, both on and off the field. Hustle 8U was originally branded by Taseer and developed with Hondo in 2017 as a 9U AA. They have won two championships back to back including the 2017 World Series in Sulfure, Louisiana and the 2018 World Series in Gulf Shore, Alabama. They have now been categorized as a 9U major. The team and coaches alike are excited to see what the future brings for the team. Hustles' program is dedicated to developing children into upstanding citizens through discipline and teamwork.
About ZT Sports
ZT Sports is a full-service sports management agency that provides traditional agent services offerings including contract and arbitration negotiation, individual coaching, and concierge treatment, in addition to in-depth wealth management and marketing.
About ZT Corporate
ZT Corporate is an innovative full-service wealth management firm with worldwide influence based in Houston, Texas and New York City. Our skilled management teams provide specialized financial solutions and create value for client-partners through a broad range of financial vehicles, including unique traditional and alternative private equity investments across health care, automobile dealerships, quick-service restaurants (QSR), and real estate. The source of their success stems from building close and trusting relationships with its employees, partners, and community at large.
Source: ZT Corporate
Share: